We will try to have a Classmate's Biography each month!
NOVEMBER 2010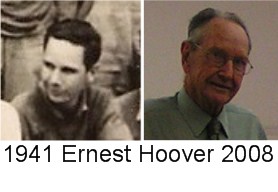 *_BIOGRAPHY FOR ERNEST HOOVER_*

Ernest Hoover was born on 7 March 1925 at the farm home of his
grandparents. This house was later to be the home of Donald and Lucille
Hoover. Ernest's parents were Ernest L. and Mary (Mollie) Hoover. Ernest
was delivered by Dr. Spurgeon (Dr. Comp was busy). Ernest had two
siblings, Clarence and Dorothea.

Ernest's parents moved from his grandparents' home in the fall of 1925
to the farm home, which is located one half mile south of the Manitou
Cemetery. Ernest relates that his folks almost lost that farm when the
Manitou Bank went bankrupt in either 1925 or 1926.

Ernest attended the first through the eighth grades at the Thacker
School (located two and a half miles west and one quarter mile south of
Manitou). He then attended high school at Manitou, graduating with the
Class of 1943.

Ernest's classmates in the Class of '43 included Eltine Fant, Louise
Godfrey, Jane Vogel (Superintendent Vogel's daughter), Eli Barrett,
Donald Dean, Donald Martin, and Donald Wells.

After graduation from high school, Ernest farmed with his father and
farmed for Pierceson Adams. Ernest used both a tractor and horses when
he farmed for Pierceson.

Ernest received a deferment from military service while he was engaged
in farming, but was called to service toward the end of World War II.

Ernest joined the United States Army Air Corp on 25 June 1945 and was
assigned to Sheppard Field in Wichita Falls, Texas, for his basic
training as well as aircraft mechanic and aerial gunner training. He was
undergoing aerial gunner training when the atomic bombs were dropped on
Japan. With the conclusion of hostilities between the United States and
Japan, Ernest was deployed to Indian Town Gap, Pennsylvania, as a
financial clerk to assist with out processing of American service
members getting out of the military. Ernest was relieved of duty on 12
November 1946 and returned home. Ernest has vivid memories of the steam
train trip that moved him from Sheppard Field to Indian Town Gap, as the
trip took three days.

Upon his return home from military service, Ernest resumed farming with
his father.

Ernest started dating Elsie Stoll in 1947 and they were married on 15
October 1948. A photograph from their wedding is located on the Manitou
School website under "Photo Albums, Classmates Album #2, Page 3."

Ernest relates a story as to how he communicated with Elsie. Ernest
would write a letter and rush the letter out to meet the rural mail
carrier, Ely Stowe, who would transport the letter to the Bill Stoll
mailbox. Elsie would then write a letter to Ernest and give the letter
to Ely for delivery to Ernest. Of course, this was done without benefit
of a stamp at either end, with Ely Stowe serving as their go-between. I
bet this was done without the knowledge and consent of Clarence Reffner,
the Manitou Postmaster.

Ernest, as a World War II veteran, received military to civilian
transition training at the Manitou School in late 1946 into 1947. He
mentioned that one of the projects his training group completed was the
construction of the bus barn at the Manitou School. A couple of members
of his training group included Duane Cardwell, Jerome Brink, Hank
Jensen, and Earl Ellis. Members of the training program who selected
farming as their occupation, performed "free" work for some of the
established local farmers. One in particular that Ernest remembered was
Eddie Stellman. Eddie invited some of the trainees out to his ranch east
of Manitou and the group worked all day vaccinating, dehorning, and
castrating cattle……when all the day's work was completed, it seemed that
Eddie simply thanked the group and walked away.

After their marriage, Ernest and Elsie moved into the farm house of his
aunt, Lillie Todd, one half mile east of Manitou on the Baseline Road.
Lillie Todd was a sister to Ernest's mother and her husband, Ed, was a
half-brother to Will Neumeyer. With the retirement of Ernest's father
and mother in 1958, and their subsequent move into the Heerwald house in
Manitou, Ernest and Elsie moved to his father and mother's farm home
near the Manitou Cemetery.

Ernest drove a school bus at Manitou for a short period sometime during
the mid-1950s, when Clyde Conway was the superintendent. His bus route
covered the areas northwest and northeast of Manitou.

Ernest and Elsie are parents of five children who all attended Manitou
Grade School: Ray (Class of 1965), Loyce (Class of 1967), Marlin (Class
of 1969), Steven (Class of 1974), and Roger (Class of 1978).

Ernest and Elsie retired from active farming in 1990. Although retired,
they remain active with their church, their community, and the Manitou
Alumni Group.

*_BIOGRAPHY FOR ELSIE STOLL-HOOVER_*

Elsie was born on 14 June 1930 at the farm home of her parents, William
(Bill) and Marie Schreiner-Stoll and was delivered by Dr. Comp. She had
three siblings, Emma (did not attend high school), Vernon (Class of
1954), and Louella (Class of 1957).

Elsie attended first grade at Glendale School (seven miles east and one
mile north of Manitou), then attended second through seventh grades at
Holton School (six and a half miles east and one mile south of Manitou).
With the closing of Holton School, Elsie attended the eighth grade and
high school at Manitou, graduating with the Class of 1948.

Elsie's classmates with the Class of 1948 included: Helen Ferris, Bobbie
Pounds, Delores Schreiner, Charles Cope (did not graduate), Richard Day,
Clayton Hughes, and Thomas Tuck.



OCTOBER 2010